Mark Grenon and his son, Joseph Grenon, arrested in Colombia and expected to be extradited to the US for selling solution Trump mentioned at briefing
Ed Pilkington in New York @edpilkington
Wed 12 Aug 2020 12.44 EDTLast modified on Wed 12 Aug 2020 13.28 EDT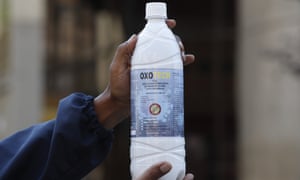 The self-styled "archbishop" of a purported church in Florida that sells industrial bleach as a "miracle cure" for Covid-19 has been arrested with his son in Colombia and faces extradition to the US.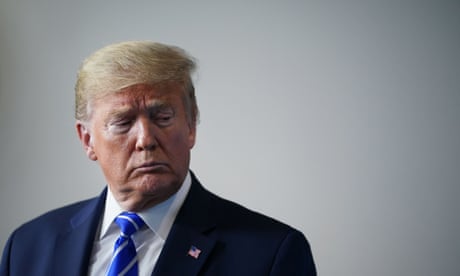 Read more
Video footage posted to the Twitter feed of Colombia's top prosecutor showed Mark Grenon and his son Joseph Grenon, dressed in blue jump suits and masks, being led away by armed police. The prosecutor's office said the pair had been taken into custody on suspicion of selling a "miracle solution" that had caused the deaths of seven American citizens.
The Grenons' apprehension comes a month after the "archbishop" of the Genesis II "church", as well as three of his sons, were charged by federal authorities in Florida with dealing in a substance that has not been approved for medical use and could be life-threatening.
The substance, chlorine dioxide, is a powerful bleach used in textile manufacturing. The Grenons market it as "miracle mineral solution" or MMS which they say when drunk as a dilution can cure almost all illnesses including Covid, cancer, HIV/Aids as well as the condition autism.Advertisement
In April, the Guardian revealed that Grenon had written to Donald Trump in the White House encouraging the US president to embrace the product in his efforts to contain coronavirus. The letter claimed MMS "can rid the body of Covid-19".
A few days later, Trump went on national TV in his daily coronavirus briefing from the White House and raised the idea of injecting disinfectant into the body to fight Covid-19. "Is there a way we can do something, by an injection inside or almost a cleaning?" he said.
The US Food and Drug Administration has banned Grenon and his sons from peddling in bleach. Last August the FDA issued a public notice warning Americans not to drink MMS or similar products.
"If you are drinking MMS or other sodium chlorite products, stop now," the notice said. "The FDA has received many reports that these products, sold online as 'treatments', have made consumers sick."
When the Guardian asked Mark Grenon to respond to the FDA's warning, he replied in an email: "You and your Guardian newspaper are just puppets of the evil players of this world like the Murdoch/Rothschild families! May God open your eyes Picklehead Ed that doesn't research the Truth or YOU ARE A PAID LIAR!"
America is at a crossroads …
… and its direction in the coming months will define the country for a generation. These are perilous times. Over the last three years, much of what the Guardian holds dear has been threatened – democracy, civility, truth.
The country is at a crossroads. Science is in a battle with conjecture and instinct to determine policy in the middle of a pandemic. At the same time, the US is reckoning with centuries of racial injustice – as the White House stokes division along racial lines. At a time like this, an independent news organisation that fights for truth and holds power to account is not just optional. It is essential.
Like many news organizations, the Guardian has been significantly impacted by the pandemic. We rely to an ever greater extent on our readers, both for the moral force to continue doing journalism at a time like this and for the financial strength to facilitate that reporting.
We believe every one of us deserves equal access to fact-based news and analysis. We've decided to keep Guardian journalism free for all readers, regardless of where they live or what they can afford to pay. This is made possible thanks to the support we receive from readers across America in all 50 states.
As our business model comes under even greater pressure, we'd love your help so that we can carry on our essential work. If you can, support the Guardian from as little as $1 – and it only takes a minute. Thank you.